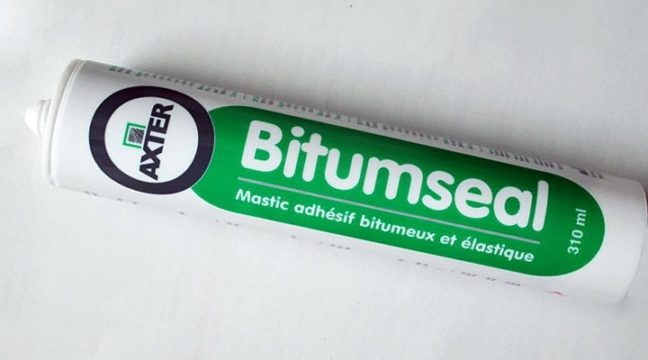 High performance plasto-elastic adhesive and mastic based on bituminous and SBS elastomer.
Adhesive for bituminous waterproofing membranes for bonding, sealing and grouting, even on damp substrates or under water. For use only on joints that are not mechanically stressed.
Advantages
Specifications
Applications
Can be used directly from cold on all clean, degreased and dust-free materials.
Adheres to almost all building materials (concrete, wood, steel, etc.) and plastics without plasticizer.
Dries without shrinkage.
Excellent resistance to UV and ageing in general.
Can be used under water and on damp substrates.
Does not drip and can be used both horizontally and vertically.
Packaged in 310 ml cartridges – box of 25 cartridges.
Store in a dry place between 5 and 25°C, in its original hermetically sealed packaging. Maximum storage time: 12 months.
Not suitable for applications where the product is in contact with mineral oils (soften the product).
Cannot be painted.
BITUMSEAL can be applied with a standard or pneumatic gun.
Consumption: 310 ml/m² for bonding 310 ml for 10 m of joint (diameter 0.5 cm)
Application temperature: 5°C to 35°C
Drying time: 12 hours to several days depending on the temperature and type of substrate, the thickness of the layer and the permeability of the materials to be bonded.
As soon as it is applied, it induces sufficient adhesion to resist a limited load. The final adhesion depends on the nature of the substrate and the type of bonding.
When applying on wet surfaces or under water, the application tip must be in contact with the surface to be bonded (test beforehand).
Download the documentation
Consult us to receive more information
Commercial contact