For nearly 40 years, COLETANCHE bituminous geomembranes have been used in the construction of :
concrete and earth dams,
from low to very great heights (>15 meters in high).
Proof of its ability in this field, COLETANCHE has been certified by the French Committee for Large Dams (CFGB) for several large dams in France and by the International Commission on Large Dams (ICOLD) for large dams internationally.
Reliable and long-lasting waterproofing
The Ospedale Dam in Corsica (France) prooves the exceptionally long-lasting performance of hydraulic structures protected by COLETANCHE. Since 1978, COLETANCHE ensures the waterproofing of this structure. This was the first time that a bituminous geomembrane was used to waterproof a dam classified as a "Large Dam."
The reliability of the joint welds can be justified nowadays by ultrasound inspections.
COLETANCHE shows an exceptional resistance in harsh weather conditions (UV, heat, rain, extreme cold). The elastomeric bitumen used in the fabrication allows the geomembrane to remain exposed and uncovered for years with no change for its mechanical and waterproofing performance.
High mechanical resistance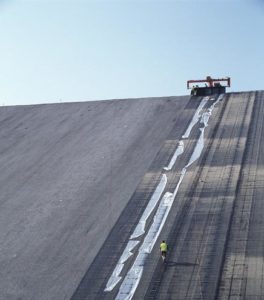 To puncture and initiated tearing
COLETANCHE is internally reinforced and can be:
Installed directly on natural, compacted, high grain size supports without the need for a protective geotextile (consult our Technical Department).
Directly covered with a high grain size cover material. The installation of the single geosynthetic membrane COLETANCHE, rather than three polymer geomembranes, saves time and money.
Earthquake resistance
The COLETANCHE geomembrane protecting the Milpo Dam in the Chincha region of Peru suffered no damages following an earthquake magnitude 8.2 in 2007.
This observation has been subsequently confirmed by tests conducted by LADWP in Los Angeles, California.
Easy installation and maintenance
As implementation does not require specific equipment, it can be carried out by local companies. Internationally, our instructing engineers can provide on-site training for installation teams. To adapt to the specificities of the structure, lengths of rolls that exceed our standards can be manufactured (please consult us).
Installation in all weather conditions
COLETANCHE® is immune to thermal expansion. It remains in constant contact with the surface and the absence of wrinkles means that it can be laid and covered at any time of day, in any season.
Friction angle
Angle between 33 and 43°, which makes COLETANCHE installation on 2H:1V slopes possible.
Resists wind uplift
Its mass per unit area of between 3.8 and 5.5 kg/m², intermediate anchoring techniques and the compartmentalisation of the structures allow its installation in very windy areas.
Potability
COLETANCHE ES2 and ES3 geomembranes are NSF ANSI 61 certified by NSF International. This international standard applies to the health effects of devices, components, and materials that come into contact with drinking water.